~~~
Day's Verse:
The end of a matter is better than its beginning,
and patience is better than pride.
Ecclesiastes 7:8
~~~
UPDATES BELOW: 4 new items posted 20 Oct 2009. Scroll to the bottom of the post to see them.
UPDATE ON 24 OCT 2009: Added bridesmaid dress for sale, number 17.
While I was off in bike land, Ian diligently compiled pictures of most of the furniture we want to leave in New England. I'm posting this stuff here to give people who know us first dibs; in a few days or a week, we will post this on Craigslist and hopefully get rid of most everything.
We haven't decided on prices for anything, and much of it we'd just be happy to get rid of at all, so we'll happily negotiate with you if you see something you like. Leave a comment or email me if you see something you like. You are responsible for transporting anything you want.
1. Two bedside tables and
1.a. One lamp


Fine condition. Bought at Office Max (or equivalent) originally. Particleboard with wood veneer over top. Lamp is a touch on-and-off one that works just fine; it has a counterpart floor lamp (not pictured on this page) that looks very similar. You can have them together or separately.
2. Three-lamp floor lamp.


Works fine. Not damaged in any way. Originally bought at Home Depot.
3. Light house picture.


Not particularly good quality, just cardboard backing with cheap plastic cover and chrome-plated edging. Originally bought at Goodwill, and I expect we will return it there, too.
4. Child-sized work table.


I really like this table, but it just is not worth hauling back to Seattle. It is sturdy and high-quality, somewhat dinged up, and is just the right size for an elementary school kid to use as a desk. We use it to put our keys and miscellaneous stuff on right now. Originally received from relatives.
5. Two fuzzy rugs, 5 ft by 2 ft.


Fuzzy. Blue. Sheds a bit. Keeps your feet from freezing on wood, tile, or linoleum. Nice enough rugs, but not worth our while to bring back to Seattle since we can replace them easily. These are somewhat long in the tooth but not stained or disgusting in any way. Not sure where we got them originally — possibly Bed, Bath, and Beyond.
6. Kitchen/dining room table and 4 chairs.


Yes, I know the picture only has 2 chairs. We use the other chairs elsewhere. The table and chairs came from a furniture warehouse in Worcester, and despite repairs about 3 years ago, all the chairs are coming apart at the cross-beams. The table is in tolerable condition with a few stains on it. The table has two drop-leaves and when it is fully extended can fit about 5 people around it. This is actual wood, presumably from some 3rd World clear cutting operation.
7. Twisty floor lamp.


This is a little wobbly on its base but otherwise in fine condition. Has multiple brightness settings. Probably bought at Home Depot originally.
8. Tan recliner.


Although this doesn't look great, it is really quite comfortable and I like it. However, it is so big and bulky, we don't want to haul it all the way to Seattle when we got it for free originally.
Interior:


This is particleboard and weighs about 10,000 lbs (conservative estimate). It also smells weird inside, but not NEARLY as weird as when we got it in the first place. We put down sticky wood-colored paper to cover the bottom and gouged a hole in the back (pre-drill ownership) for cords to come out. The best thing I can say about this is that it is incredibly sturdy. Take it for free. Please. Take it.
10. CD Rack.


Holds a bunch of CDs. I know that is super helpful, but I have no real information on it. It held all our CDs plus some of Ian's video games. In fine condition, comes with miscellaneous parts whose use we never figured out.
11. Unfinished bookshelves.


These are pretty decent basic bookshelves. They are plain particleboard, very sturdy, with various height options for the shelves. In essentially the same condition as we bought them, not broken or stained or anything. We got them from WPI college students originally, I think.
12. Ikea bookshelf.


This is also particleboard, but has a wood veneer. Not as tall as the other ones but is in good condition, not broken or stained.
13. Office chair. – NEW 20 Oct 2009


Not much to say about it. Comfy, no major wear, nothing broken, kind of dusty. No clue where we originally got it.
14. Mini-shelving unit (shown to left). – NEW 20 Oct 2009
15. Office desk (shown to right). – NEW 20 O
ct 2009


The mini-shelves came with a desk we have since jettisoned. It is approximately the same height as most desks and is a handy flat surface extension in our office space. Originally came from Office Max, I think. Particleboard covered with wood veneer with medal tubing for legs.
The desk is very basic, with no shelves or anything. It is just a big wooden (? -possibly something very heavy with wood veneer over top) platform with steel sides. Ian is sad to part with it but it is so bulky-yet-replaceable we are leaving it behind. Very, very sturdy. Originally came out of the blue sky, as far as I am concerned.
16. Canon S1 IS digital camera, camera bag, and polarizing filter. – NEW 20 Oct 2009


This camera was my baby for 5 years and it has seen heavy use. Click the picture for a review of the S1 IS. It still works most of the time, but has the irritating quirk of occasionally freezing up and requiring fiddling around with to get it turned back on. There may be a fix for this that I don't know of. It comes in the original box with all the original CDs, software, user's manual, etc.; I also have a camera bag and polarizing filter for it that I'll send with it. Here are a few sample pictures I took with the S1 IS.
17. Alfred Angelo bridesmaid's dress, style 6557. Looks like this picture, but paler blue with darker blue sash and accompanying shawl: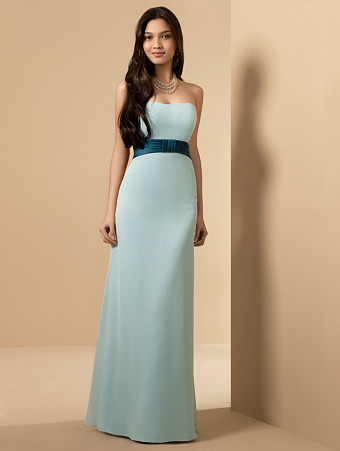 Will fit a 110-lb woman, ~5'3″.