Day's Verse:
Consider it a sheer gift, friends, when tests and challenges come at you from all sides. You know that under pressure, your faith-life is forced into the open and shows its true colors. So don't try to get out of anything prematurely. Let it do its work so you become mature and well-developed, not deficient in any way.
James 1:2-4 (I'm just leaving this up until The Boy comes, a reminder for myself.)
I think this XKCD pretty accurately depicts how Ian and I — and our parents, and probably some extended family and possibly some friends — are feeling about imminent* The Boy's arrival.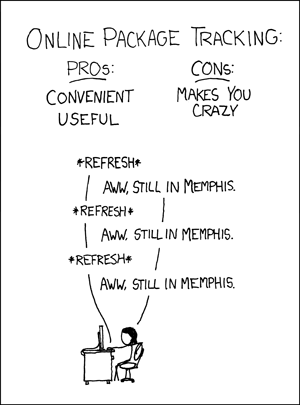 We have an estimated date of delivery, but unfortunately, like the super-cheap ground shipping option, that's really a date range. "Expect your package any time in the next week," so then you come home every day and eagerly look at your front porch, and nope… not there. You check the tracking number online and doggone it, still listed as in Memphis! You know the package must be making its way toward you, possibly by steam locomotive, stagecoach, or foot relay, and you know it'll come eventually. Still, you can't help hoping that today's the day, and you can't help feeling a little disappointed when today ends and now it's tomorrow. Except that maybe that's the day after all!
As a result, we go through our day like Calvin anticipating the arrival of his beanie (click the link for the entire beanie anticipation series, which I think sums up pregnancy pretty well).

I will quickly note that the last week or so I've figured out how to use Tylenol to manage the pain that plagued me at the beginning of the month, and we're doing very well. Just waiting, and I have nothing on my calendar for the week (for good reason), so it's looking reeeeeally long.
* As in, due tomorrow; my OB did warn me that many first pregnancies go past their due dates, to which I say: